The Power of IV Therapy, without the Medical Procedure.

Hinnao Consulting
Grow Back

If you would like to schedule a consultation with Sunil Kochhar prior to buying Hinnao products, please click the button below.
Book a Consultation

Sunil Kochhar
Sunil Kochhar is the founder of Grow Back, a personalised hair loss treatment clinic.
He has over 25 years' experience in the pharmaceutical industry and has always dedicated himself to giving patients optimum outcomes using innovative services and products.
Sunil has seen and tried many products over the years and believes that Hinnao supplements are a game changer with high bio availability and instant absorption. Patients are better results and outcomes using Hinnao products.
Sunil offers tailor made hair treatments to individuals based on their genetic makeup. Using revolutionary DNA testing, Sunil is able to prescribe a personalised treatment plan to target the real cause of hair loss and the results to date have been astonishing.
How to take HINNAO Drops

SHAKE VIGOROUSLY AND MIX WELL FOR 30 SECONDS FOR CONSISTENT DOSE
Our products should be kept in a cool, dry place. Shake the bottle well to ensure the product is mixed. Glutathione especially needs to be shaken on a regular basis to avoid solidifying.
SQUEEZE PIPETTE TO DRAW UP RECOMMENDED DOSE
Each product has its own dosage suggestion ranging from 0.5 ml to 1 ml. Dosage suggestion is displayed on both product box and bottle label.
PLACE THE PRODUCT IN YOUR MOUTH
Place the liquid under your tongue to optimise absorption. There are more mucous membranes under your tongue than elsewhere in your mouth.
HOLD IN YOUR MOUTH FOR 60-90 SECONDS, THEN SWALLOW
For optimised absorption, the product should be placed under the tongue and held there for 60-90 seconds. If you find this difficult, there are still many mucous membranes throughout your mouth.
Why choose HINNAO Technology?
HINNAO Technology has developed a proprietary process, that enables vitamins and supplements to be reduced into lipid sized particles and absorbed directly into the bloodstream via sublingual administration.
By reducing the particle size of our vitamins and supplements and precisely controlling the level of size reduction during manufacturing, we are able to effectively process shear-sensitive materials without breaking the covalent/hydrogen bonds of the product. This allows us to produce products that are very stable.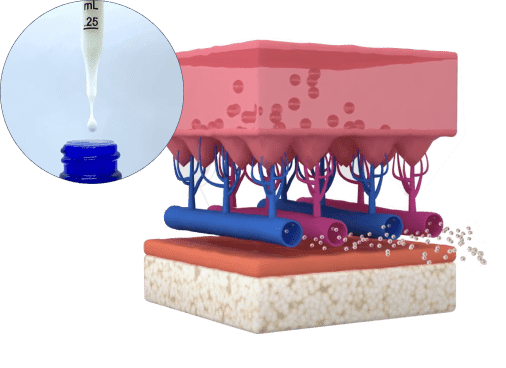 Third-Party Tested
HINNAO Technology tests all products using independent third-party certified laboratories to verify the percentage (%) of drug permeation at specific time intervals. Trials demonstrating the efficacy of these.
This is an important part of our quality assurance process.
Each clinical study costs around £70,000 to complete.
One study showed that 54% of the HINNAO Glutathione was delivered into the bloodstream within 40 seconds, 80% within 60 seconds and 83% within 90 seconds.