The Power of IV Therapy, without the Medical Procedure.
Hinnao Consulting
Vedaskin

If you would like to schedule a consultation with Jigna Patel prior to buying Hinnao products, please click the button below.
Book a Consultation
Jigna Patel
Dr Patel attained a Bachelor's Degree in Human Anatomy and Cell Biology in 2003 and thereafter went on to complete her Bachelor of Medicine and Bachelor of Surgery Degree in 2008 with distinctions in medical science and special studies from the prestigious Kings College London School of Medicine in 2008. She subsequently, after two years training in core medical and surgical specialities, returned to the city of London for a career in Paediatrics where she obtained her Diploma in Child Health. She qualified as a GP in 2015 and is a member of the Royal College of General Practitioners. She remains committed to part time NHS GP work in Essex, London, with particular interests in child and mental health as well as Dermatology.
Her aesthetic career started in 2017 where she founded Vedaskin® and since then she has established her ethos and concept of leading a raw and authentic approach with meticulous attention to detail in managing her patients, both in person and virtually, using her skills interchangeably across her careers.
With an avid interest in skin health, ageing gracefully and regenerative medicine as her main passions. In more recent years, holistic wellbeing as well as connecting the dots between mental, digestive and skin health has evolved whereby she has explored the opportunities to utilise products and ingredients from established colleagues across the world. Scientific and evidence based products are core to her portfolio and emerging path into the true understanding of holistic care. For her aesthetics is beyond attaining the ideal; it is finding what reflects our true healthy selves.
She has also trained with leaders in the industry in aesthetic injectables, chemical skin peeling, microneedling and medical grade skincare
Before purchasing Vitamin D or B12 please consult Dr Jigna Patel for your suitability and requirements.
How to take HINNAO Drops

SHAKE VIGOROUSLY AND MIX WELL FOR 30 SECONDS FOR CONSISTENT DOSE
Our products should be kept in a cool, dry place. Shake the bottle well to ensure the product is mixed. Glutathione especially needs to be shaken on a regular basis to avoid solidifying.
SQUEEZE PIPETTE TO DRAW UP RECOMMENDED DOSE
Each product has its own dosage suggestion ranging from 0.5 ml to 1 ml. Dosage suggestion is displayed on both product box and bottle label.
PLACE THE PRODUCT IN YOUR MOUTH
Place the liquid under your tongue to optimise absorption. There are more mucous membranes under your tongue than elsewhere in your mouth.
HOLD IN YOUR MOUTH FOR 60-90 SECONDS, THEN SWALLOW
For optimised absorption, the product should be placed under the tongue and held there for 60-90 seconds. If you find this difficult, there are still many mucous membranes throughout your mouth.
Why choose HINNAO Technology?
HINNAO Technology has developed a proprietary process, that enables vitamins and supplements to be reduced into lipid sized particles and absorbed directly into the bloodstream via sublingual administration.
By reducing the particle size of our vitamins and supplements and precisely controlling the level of size reduction during manufacturing, we are able to effectively process shear-sensitive materials without breaking the covalent/hydrogen bonds of the product. This allows us to produce products that are very stable.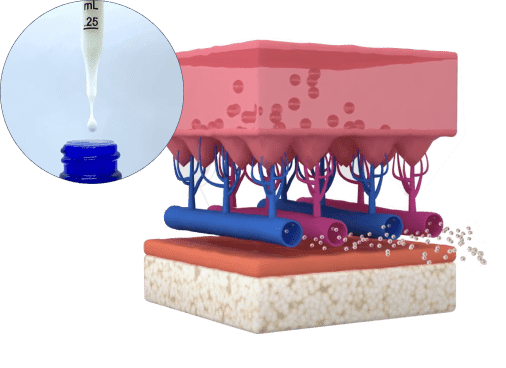 Third-Party Tested
HINNAO Technology tests all products using independent third-party certified laboratories to verify the percentage (%) of drug permeation at specific time intervals. Trials demonstrating the efficacy of these.
This is an important part of our quality assurance process.
Each clinical study costs around £70,000 to complete.
One study showed that 54% of the HINNAO Glutathione was delivered into the bloodstream within 40 seconds, 80% within 60 seconds and 83% within 90 seconds.