The Power of IV Therapy, without the Medical Procedure.
Hinnao Consulting
Don Gordon

If you would like to schedule a consultation with Donald Gordon prior to buying Hinnao products, please click the button below.
Book a Consultation
Donald Gordon
Health Transformation & Functional Nutrition Coach
Don is a degree qualified nutritional practitioner who graduated after 4 years of
study from the Centre of Nutrition and Lifestyle Management School (CNELM) in
nutritional science. He has extensive knowledge in a wide range of holistic
disciplines and wellness including functional food intolerance and sensitivity
testing. Don enjoys sharing research projects and best ideas with top experts in
their fields and is an NLP practitioner published author, researcher and writer for
titles such as, Functional Sport Nutrition Magazine , The Wellness Room, and
Physique Global.
He adopts a functional medicine approach which provides integrative practice and
tools to help you thrive. Through 1:1 and group coaching, seminars, and wellness
workshops, Don is dedicated to helping people overcome health challenges by
empowering them with knowledge and resources transforming them to higher
levels of wellbeing.
He has had an extensive corporate background working within large multinationals
and medium sized businesses throughout the UK and abroad including the
successful ProLon© Fasting Mimicking Diet (FMD) helping curate resources,
products and events internationally. He is an educator in the field of nutritional
science presenting at The Integrative Personalised Medicine Conference (IPM)
2022 as well as guesting on a number of health-related podcast channels.
He also holds a distinction in Tai Chi Chuan and therapeutic exercise and this
knowledge and experience he shares with his clients. He has been a competitive
performance athlete winning national Karate titles and masters triathlete awards
for over 20 years.
During his 15 years of experience in the health and fitness industry he has
coached and tutored hundreds of people through Yoga, Pilates, Tirapy, TRX
Suspension training classes helping individuals and groups with a wide range of
wellbeing issues. He specialises in weight management, prolonged fasting, athletic
performance, digestive and neuro endocrine hormonal balancing. He has a
reputation for delivering practical nutritional interventions focussed on real foods
and sustainable practices championing many start-up health and food companies.
He has also helped establish the UK based charity that supports families with a
rare epilepsy syndrome - ring20researchsupport UK.
Don is an Associate Member of the Royal Society of Medicine, British Society for
Ecological Medicine (BSEM) a professional member of The National Centre for
Integrative Medicine (NCIM), and The Federation of Holistic Therapists (MFHT).
How to take HINNAO Drops

SHAKE VIGOROUSLY AND MIX WELL FOR 30 SECONDS FOR CONSISTENT DOSE
Our products should be kept in a cool, dry place. Shake the bottle well to ensure the product is mixed. Glutathione especially needs to be shaken on a regular basis to avoid solidifying.
SQUEEZE PIPETTE TO DRAW UP RECOMMENDED DOSE
Each product has its own dosage suggestion ranging from 0.5 ml to 1 ml. Dosage suggestion is displayed on both product box and bottle label.
PLACE THE PRODUCT IN YOUR MOUTH
Place the liquid under your tongue to optimise absorption. There are more mucous membranes under your tongue than elsewhere in your mouth.
HOLD IN YOUR MOUTH FOR 60-90 SECONDS, THEN SWALLOW
For optimised absorption, the product should be placed under the tongue and held there for 60-90 seconds. If you find this difficult, there are still many mucous membranes throughout your mouth.
Why choose HINNAO Technology?
HINNAO Technology has developed a proprietary process, that enables vitamins and supplements to be reduced into lipid sized particles and absorbed directly into the bloodstream via sublingual administration.
By reducing the particle size of our vitamins and supplements and precisely controlling the level of size reduction during manufacturing, we are able to effectively process shear-sensitive materials without breaking the covalent/hydrogen bonds of the product. This allows us to produce products that are very stable.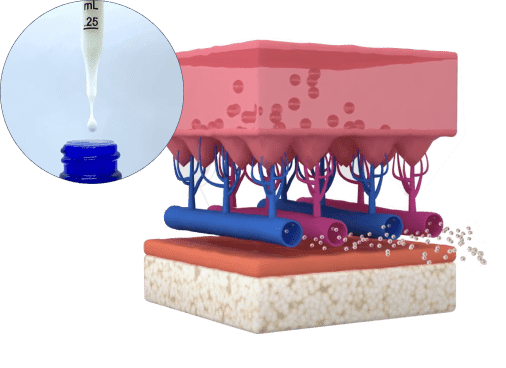 Third-Party Tested
HINNAO Technology tests all products using independent third-party certified laboratories to verify the percentage (%) of drug permeation at specific time intervals. Trials demonstrating the efficacy of these.
This is an important part of our quality assurance process.
Each clinical study costs around £70,000 to complete.
One study showed that 54% of the HINNAO Glutathione was delivered into the bloodstream within 40 seconds, 80% within 60 seconds and 83% within 90 seconds.